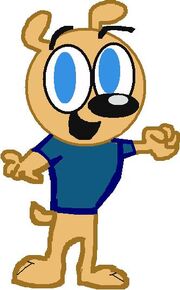 T.U.F.F. Puppies
is a fanmade TV show. It is directed by Butch Hartman.
Creation
After Fairly OddPuppies was canceled and never meant to be, Butch Hartman created another show called T.U.F.F. Puppies.
Plot
Dudley Puppy fights a new villain named Quintin Matheni tries to take over Petropolis. Along with Dudley are 2 new characters, named Seth Puppywell and Connor Retriever.
Episodes
Main Article: List of T.U.F.F. Puppies Episodes
The Pilot episode for T.U.F.F. Puppies is Jello Town. There are 9 more All Right! Cartoons and then the main series starts. The first real episode is Dog Adventures which will air June 20, 2013. Season 0 (AR!C): June 20, 2012 - November 1, 2012 Season 1: June 20, 2013 -
TV Movies
The first TV movie for T.U.F.F. Puppies is coming soon.
Characters
Main Article: List of T.U.F.F. Puppies Characters
Main
Connor Retriever
Seth Puppywell
Dudley Puppy
Kitty Katswell
Quintin Matheni
Secondary
Isabella Fibonacci (pronounced Fi-bun-ach-i)
Ordinary Joe
Robert Perry
Ronic the Hedgehog
Minor
Keswick
The Chief
Henry Hanuman
Trivia
Ad blocker interference detected!
Wikia is a free-to-use site that makes money from advertising. We have a modified experience for viewers using ad blockers

Wikia is not accessible if you've made further modifications. Remove the custom ad blocker rule(s) and the page will load as expected.