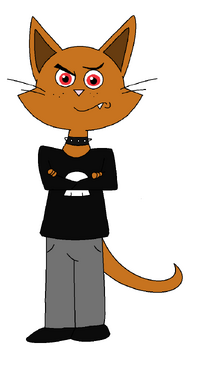 Kevin Katswell
250px


Gender:

Male

Hair Color:

Brown

Eye Color:

Red

Species:

Cat

Age:

28

Birthday:

April 27. 1984
Personal Information

Affiliates:

T.U.F.F. Turbo Undercover Fighting Force.

Friends:

Wonderkat,Crazy,Ralph,Amo,Claire,Maria,Agent R,Chito,Matt,Sir Kangeroo,Drago,Fairly,19,Viv,and Dudley.

Enemies:

Dr. Katkill,Andrew,Snaptrap,Bird Brain,and The Chameleon.

Love Interests:

Viv (wife), Maddi, Lisa Griffin, Crazy, Kaylen, Lily, Kim (all past)

Interests:

Being cool,Listening to metal,and playing guitar.

Goal:

Do whatever he wants.
Family Life

Parents:

Unknown mother and father.

Siblings:

None

Cousins:

Jonathan Dezmond, and Kitty Katswell
Kevin Katswell is a character in T.U.F.F. Puppy. He made his debut in Kevin's Revenge.
Biography
He was born April 27, 1984. He was one of the most popular students in school, and he ain't nerdy. He gratuated in 2002. In 2007, The Chameleon tried to kill him, causing him to turn aggressive and also turning his eyes red. He is a proffesional racecar driver. He won 5 cups in the Petropolis Pepsi Cup Series. He is due to appear at the 6th annual one this August . He joined the secret agency T.U.F.F. on August 19, 2006.
Relationships
Maddi: She was his girlfriend and they had quite a great relationship for a while. ( note this OC doesn't belong to KS762 )
Kitty- She is his cousin. They get along often.
Dudley- They are best friends
Jack Rabbit- Though he tried to suck Kitty's mind and got access to T.U.F.F.'s safe, They're still friends.
Crazy- They're great friends. He always looks up to her. Although being best friends with her, he had a short-lived crush on her and they had a brief relationship.
R- He thinks of R as " a proffesional Agent with a heart of espionage " When He first joined T.U.F.F., R was his trainer.
Snaptrap- They are not good friends. They always fight.
WK- They have a well-known friendship towards each other.
The Chameleon- Total Enemies with him.
Ralph- Him and Ralph are pretty good friends.
Matt- He is a Great Friend of his. During Matt's recent infection, he prays for him.
19: PILLZ brothers. ( not as in family brothers )
Viv: She is one of his biggest friends. He always looks up to her. despite the normal friendship, Viv had a major crush on him, but since he had a girlfriend, their relationship was one-sided for a while. They eventually get together and marry.
Lily, Lisa Griffin, Kaylen and Kim: Some of Kevin's ex-girlfriends.
Brenton and Rawk: High school friends of Kevin's.
Other Photos
Ad blocker interference detected!
Wikia is a free-to-use site that makes money from advertising. We have a modified experience for viewers using ad blockers

Wikia is not accessible if you've made further modifications. Remove the custom ad blocker rule(s) and the page will load as expected.