THIS FANFIC BELONGS TO ANTI-COSMO DUDE. PLEASE ASK HIM BEFORE EDITING

Jello Town is the first pilot episode of T.U.F.F. Puppies and belongs to All Right! Cartoons. In this 8 minute episode, Seth, Connor, and Dudley save Petropolis when an evil villain named Quintin tries to flood the city in Jello. It is also the episode where Seth and Connor get their jobs at T.U.F.F. and when Quintin joins D.O.O.M.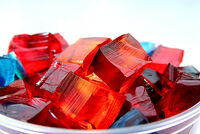 Summary
The episode starts with Seth Puppywell ready for his new job at T.U.F.F. He arrives there and finds another dog named Connor Retriever which is also starting his first day. The Chief says that their mission is to stop a villain named Quintin who somehow recently joined D.O.O.M. They took the T.U.F.F. car along with Dudley who instantly made friends with Seth and Connor. They saw a tall building named Matheni Evil Incorporated. There was a giant bucket of jello on top and Quintin dropped it and it started to flood Petropolis. Connor got a bucket of water and washed down all the jello. Quintin was sad and brainstormed for another evil plan that wouldn't fail. Seth and Connor went back to T.U.F.F. and the Chief rewarded the two for their first time fighting an evil villain.
Ad blocker interference detected!
Wikia is a free-to-use site that makes money from advertising. We have a modified experience for viewers using ad blockers

Wikia is not accessible if you've made further modifications. Remove the custom ad blocker rule(s) and the page will load as expected.