Francis is a character off of the upcoming episode "T.U.F.F Kitty ." She is the female counterpart of T.U.F.F Puppy's Francisco.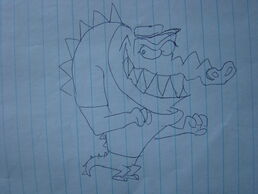 Appearance
She is a crocodile. She looks exactly like Francisco but she wears a pink hat and she has eyelashes.
Trivia
Her species is a crocodile. The species that everyone thinks is the opposite of alligators.
Opposing Francisco's Chicago accent, she will be having a New York accent.
Ad blocker interference detected!
Wikia is a free-to-use site that makes money from advertising. We have a modified experience for viewers using ad blockers

Wikia is not accessible if you've made further modifications. Remove the custom ad blocker rule(s) and the page will load as expected.