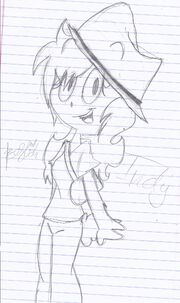 Agent Indy
is a fan character created by
SarahBefish2013
, which she had made for her mom to use.
Basic Information
Agent Indy was kind of based off of Indiana Jones, but is not exactly like him. She is out going, adventuress, and kind. She is also really into archeolodgy. Her height is unknown, though it IS known that she is AT THE LEAST taller then Agent Maria. She is also the species of a Chinchilla.
Work
Indy, of course, works at T.U.F.F HeadQuarters. Her job is a regular agent, but she is found a lot of the time in Keswick's lab, seeing that her partner, Agent Maria (link above) is also Keswick's lab partner, and because of this, Indy is stuck in Keswick's lab when they don't have any missions to go on.
Personality
She's very much into Archeology, and artifacts, and stuff. She's pretty nice, but Maria annoys the heck out of her.
Ad blocker interference detected!
Wikia is a free-to-use site that makes money from advertising. We have a modified experience for viewers using ad blockers

Wikia is not accessible if you've made further modifications. Remove the custom ad blocker rule(s) and the page will load as expected.